CERTIFICATION SCHEDULE and REGISTRATION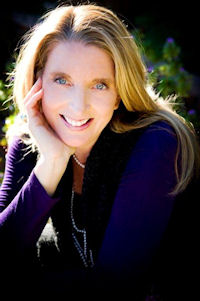 3D Sports Life Coach Certification
"Thank you for considering becoming 3D Sports Life Coach.

"As a retired athlete, I have been successful in my adult life because of the tools and training I learned to master as an athlete. I received the best of training for my sports career but as an athlete I did not receive any training in life. Life Coaching athletes and teams is a personal mission for me based on my desire to give back to sports something I wish I would have had access to as an athlete. Think about how your life would be different if you had a Life Coach as dedicated to training you for your life as sports coaches were - that is the difference I am committed to training you to be able to make in an athlete's life.

"Martha Beck, my life coach, changed my life. This work - 3D Sports Life Coaching - is my life work. I am passionate about coaching, so if you up for doing the work of figuring out who you are and how you can make a difference in the world, I would be honored to have you in my courses."

- Carlette
Let the training begin...
Your first client is YOU.
If this is something you want to do, it is a personal, professional, and financial commitment.
CHAMP10N Sports Life Coach™ Certification
Hosted Virtually on Zoom
Tuesdays and Thursdays
for Two Hours, Time TBD based on Participants' Time Zones
August 4 - November 17, 2020

The CHAMP10N Sports Life Coach Certification is a 60-hour program that includes:
Training Workshop hosted in Phoenix
Weekly Training hosted on Zoom twice a week - Tuesdays and Thursdays - for two hours each
Final Workshop Training and Graduation hosted in Phoenix
The Final Certification Schedule is confirmed once all participants are registered
The Coach Certification investment is $6000.
Registration and Full Payment: $6000


Registration and Deposit: $3000
Payment #2: $1650
Payment #3: $1650


By using the 3-Pay Plan, you agree to pay $3000 initially and have your credit/debit charged $1650 automatically on the 2nd and 3rd dates (TBD). Please note: a 5% service charge is included in the 3-pay plan.
Tuition is non-refundable and non-transferable.
The Certification process is designed to assess your coaching skills and test your knowledge of Carlette Patterson's 3D life coaching tools. Our coaches are held to the highest standard and may require additional training if criteria for certification aren't met, according to Carlette's standards. Certification is optional and is not automatic or guaranteed.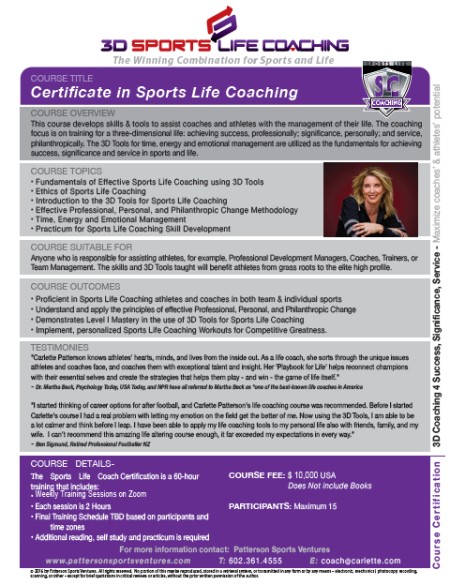 CLICK FOR DETAILS
Contact Carlette at Coach@Carlette.com to register for Sports Life Coach Training.
TRAINING ATHLETES TO BE CHAMPIONS IN LIFE